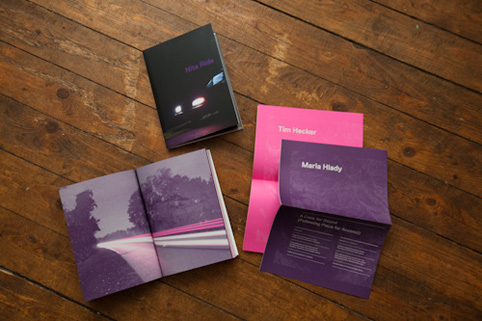 Order Now. $20 shipping included.
The beautifully designed Nite Ride publication includes a DVD, book and two small posters. Like a drivers manual for this creative project it has everything you need for a personal version of the Nite Ride experience.
The Nite Ride DVD includes 5.1 surround sound and stereo versions of Tim Hecker and Marla Hlady's projects. While Hecker's piece is a unique document of his first 5.1 surround sound composition, Hlady's work documents a performance with her sound objects transporting the listener into the intimate collaborative space. A video document of the performance is also included on the DVD.
The publication includes French and English versions of critical texts by co-curators Emily Falvey and Ryan Stec, as well as artist biographies and pull out maps.